The Sony BDP-BX370 Streaming Blu-ray DVD Player is a versatile multimedia device that combines the capabilities of a Blu-ray and DVD player with smart features for streaming content. This player is a product of Sony, a renowned electronics manufacturer known for its quality and innovation in the entertainment industry.
If you're on the lookout for a versatile entertainment hub that bridges the world of physical media and online streaming, the Sony BDP-BX370 Streaming Blu-ray DVD Player is a compelling choice. From one of the most trusted names in consumer electronics, Sony, this player seamlessly combines high-quality Blu-ray and DVD playback with built-in Wi-Fi streaming capabilities, making it a true all-in-one solution for your home entertainment needs.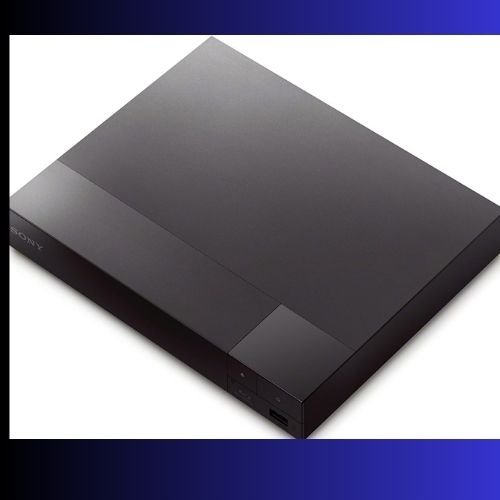 Blu-ray and DVD Brilliance: The BDP-BX370 elevates your movie nights with stunning high-definition Blu-ray playback, ensuring that every scene comes to life with vivid clarity. Plus, it's also your go-to player for standard DVDs.

Built-in Wi-Fi: Bid farewell to messy cables and embrace wireless freedom. With built-in Wi-Fi, you can effortlessly access a treasure trove of content from popular streaming services like Netflix, YouTube, and more, all from the comfort of your living room.

Immersive Audio: Your viewing experience isn't complete without exceptional sound. This player supports Dolby Digital TrueHD and DTS-HD Master Audio, ensuring that every sonic nuance is delivered with precision.

Upscaling Magic: Don't let your old DVDs gather dust. The upscaling technology breathes new life into them, enhancing the image quality for a more enjoyable viewing experience.

HDMI Cable Included: Sony understands convenience. That's why they include an HDMI cable, ensuring a hassle-free setup.
Pros:
Impressive Visuals: The Blu-ray playback quality is top-notch, delivering sharp, vibrant images that do justice to your HDTV.

Seamless Streaming: The built-in Wi-Fi works like a charm, giving you instant access to a world of online content.

Cinematic Sound: The support for Dolby Digital TrueHD and DTS-HD Master Audio elevates your audio experience to a cinematic level.

Enhanced DVDs: The upscaling feature is a real game-changer for older DVD collections, making them look better than ever.

Inclusive HDMI Cable: The included HDMI cable is a thoughtful addition, saving you the hassle of finding one separately.
Cons:
Limited App Selection: While it covers the essentials, its selection of streaming apps may be more limited compared to dedicated streaming devices.

No 4K Support: If you're equipped with a 4K TV and a 4K content library, this player doesn't cater to that format.
User Experience: Having used the Sony BDP-BX370, I can attest to its reliable performance. Whether it's enjoying a Blu-ray movie night or streaming my favorite series, the player seamlessly switches between different sources, offering a smooth and immersive viewing experience.
Value for Money: In terms of value for money, this player hits the sweet spot. It's reasonably priced for the quality and features it delivers. The inclusion of an HDMI cable further enhances its value.
Ease of Use: Setting up and operating this player is a breeze, even if you're not particularly tech-savvy. The intuitive interface and the included HDMI cable simplify the entire process.
Recommendation: If you desire an all-in-one solution for your entertainment needs, the Sony BDP-BX370 is a solid choice. It combines the best of physical media with the convenience of streaming, all wrapped in a reliable package. It's a great addition to your home theater setup or as a standalone player for your TV.
Conclusion: To wrap it up, the Sony BDP-BX370 Streaming Blu-ray DVD Player offers a superb blend of physical media playback and streaming convenience. While it might not support 4K, it delivers a dependable and enjoyable viewing experience for those seeking a reliable entertainment hub.
Rating: 4/5
Discover More Gems: Dive into Our Latest Product Reviews