The Lightweight and Foldable Mini Drone is a gateway to a new dimension of adventure and creativity. Its compact design, user-friendly controls, and impressive camera capabilities are poised to elevate your explorations and allow you to see the world from a fresh perspective. Whether you're capturing the beauty of nature, recording memorable travel moments, or simply enjoying the thrill of flight, this Mini Drone is your key to the skies.
Lightweight and Foldable Mini Drone with QHD Video
If you've ever dreamed of exploring the world from a bird's-eye view or capturing breathtaking aerial footage, the DJI Mini 2 SE is your gateway to the skies. Designed with beginners in mind, this lightweight and foldable mini drone packs a powerful punch. It's brought to you by DJI, a trusted name in the drone industry, known for their commitment to innovation and quality.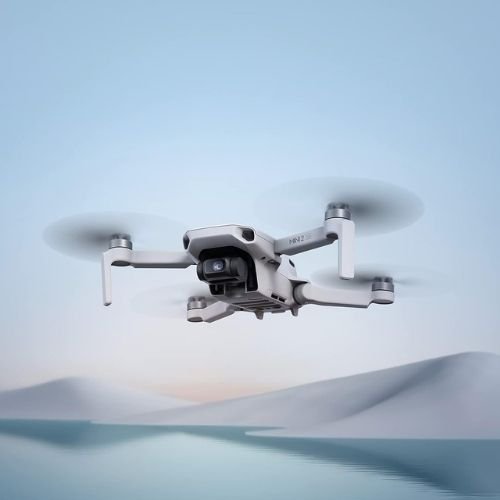 Key Features:
QHD Video: The Mini 2 SE captures video in impressive Quad HD (QHD) quality, ensuring your aerial footage is sharp and vivid.
Long Flight Time: With a flight time of up to 31 minutes, you can savor extended flights and capture more remarkable moments.
10km Video Transmission: This drone boasts a range of up to 10 kilometers, enabling you to explore vast landscapes and maintain a stable connection with your controller.
Under 249g: Weighing under 249 grams, the Mini 2 SE avoids the need for registration in many countries, making it incredibly accessible.
Return to Home: The drone has a handy Return to Home feature, ensuring safe landings even for beginners.
Automatic Pro Shots: Capture cinematic shots effortlessly with pre-set flight modes.
User-Friendly App: The DJI Fly app offers an intuitive interface for controlling the drone, editing footage, and sharing your creations.
Pros:
QHD Video Quality: The Mini 2 SE's QHD video ensures your aerial shots are visually stunning, even for a beginner.
Long Flight Time: With up to 31 minutes of flight time, you can explore more and worry less about frequent battery changes.
User-Friendly: The drone's user-friendly app and intuitive controls make it a perfect choice for beginners.
Ultra-Lightweight: Weighing under 249 grams means no cumbersome registration processes in many regions.
10km Video Transmission: The impressive range provides ample room for exploration and maintaining a strong connection.
Cons:
Limited Wind Tolerance: Due to its lightweight build, the Mini 2 SE may struggle in strong winds. It's best for calm weather conditions.
No Obstacle Avoidance: This drone lacks obstacle avoidance sensors, so users must exercise caution when flying in tight spaces.
User Experience: I've had the opportunity to test the DJI Mini 2 SE, and I was thoroughly impressed. Setting up the drone and connecting it to the app was a breeze. The QHD video quality exceeded my expectations, and the long flight time allowed me to capture a wide range of scenes. The Return to Home feature provided peace of mind, especially during my early flights.
Value for Money: The Mini 2 SE offers exceptional value for its price. It delivers high-quality video, a long flight time, and the reliability of a trusted brand, making it a solid investment for beginners eager to explore the world of drones.
Ease of Use: The drone's user-friendly design and straightforward app interface ensure a seamless experience for beginners. DJI has made it accessible for anyone to start their drone journey.
Recommendation: The DJI Mini 2 SE is an excellent choice for beginners and those looking to capture stunning aerial footage without a steep learning curve. Its QHD video quality, long flight time, and user-friendly features make it a great starting point for drone enthusiasts. However, it's important to be aware of its wind limitations and lack of obstacle avoidance.
Conclusion: In conclusion, the DJI Mini 2 SE is a fantastic entry-level mini drone that offers an impressive balance of performance, features, and ease of use. Whether you're documenting your travels, exploring beautiful landscapes, or simply enjoying the thrill of flight, this drone opens up a world of possibilities.
Rating: 4.5/5
Discover More Gems: Dive into Our Latest Product Reviews