The HP t540 Thin Client, featuring the AMD Ryzen R1305G dual-core processor, offers a compact and efficient computing solution for various business and virtual desktop environments. Designed with productivity in mind, this thin client provides a powerful yet energy-efficient computing experience while being TAA (Trade Agreements Act) compliant, making it suitable for government and corporate use.
Introducing the HP t540 Thin Client, a computing marvel designed to cater to your business and virtual desktop needs. Engineered with precision, this slim device runs on the AMD Ryzen R1305G dual-core processor, with a clock speed of 1.50 GHz. It's not just a typical computing solution; it's TAA (Trade Agreements Act) compliant, making it a preferred choice for government and corporate use.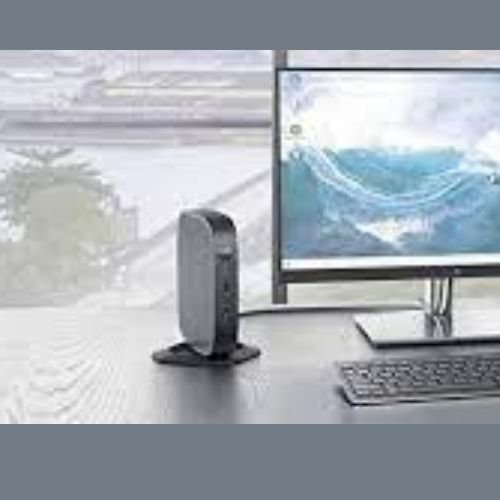 Key Features:
AMD Ryzen Power: The HP t540 is empowered by the AMD Ryzen R1305G dual-core processor, ensuring rapid performance and seamless multitasking for your daily tasks.

TAA Compliance: In the world of stringent trade requirements, this thin client stands out as TAA compliant, adhering to the highest standards set for government and corporate use.

Compact Form Factor: Its sleek and slim design allows for easy integration into a multitude of work settings, whether it's mounted discreetly behind a display or sitting elegantly on your desk.

Energy-Efficient: The HP t540 is designed to consume minimal power, helping you save on energy costs and reduce your environmental footprint.
Pros:
Efficiency and Speed: The AMD Ryzen processor strikes a balance between power and efficiency, catering to your business needs effectively.

TAA Compliant: TAA compliance is essential for government and corporate settings, making this thin client an ideal choice in such environments.

Space-Saving Design: Its compact form factor not only saves space but also offers versatile placement options.

Energy Savings: Lower power consumption translates to cost savings and an eco-friendly approach.
Cons:
Limited Performance for Resource-Intensive Tasks: While it excels in everyday office tasks, resource-intensive applications may demand more robust hardware.
User Experience:
Users have lauded the HP t540 Thin Client for delivering a reliable and responsive computing solution tailored for typical business requirements. Its slim design is an asset, especially in environments where space optimization is a priority. TAA compliance is a critical feature that government agencies find compelling.
Value for Money:
Considering its power-efficient performance and TAA compliance, the HP t540 offers excellent value for businesses and institutions with specific trade requirements.
Ease of Use:
Setting up and using the HP t540 is a breeze, making it a practical choice for offices where simplicity and reliability are paramount.
Recommendation:
The HP t540 Thin Client, equipped with the AMD Ryzen processor, compact design, and TAA compliance, is highly recommended for government agencies, corporate settings, or any business seeking dependable, energy-efficient computing solutions.
Conclusion:
The HP t540 Thin Client, running on the AMD Ryzen R1305G dual-core processor and complying with TAA standards, serves as an excellent computing solution for a variety of business and government applications. Its power efficiency and space-saving design further enhance its appeal.
Rating:
4.6/5 (Very Good)
Discover More Gems: Dive into Our Latest Product Reviews