The TP-Link AX3000 WiFi 6 Router, also known as the Archer AX55, is a cutting-edge networking solution designed to elevate your home or office internet experience. With the ever-increasing demand for fast, stable, and secure connectivity, this router stands as a beacon of technological advancement. As we delve into this review, you'll discover how the Archer AX55's impressive features and capabilities can transform the way you access the internet.
TP-Link AX3000 WiFi 6 Router
The TP-Link Archer AX55 is a powerhouse of a router, delivering high-speed, reliable connectivity that meets the demands of today's digital age. Designed by TP-Link, a brand renowned for its networking solutions, this router represents the pinnacle of advanced technology. In this review, we'll explore the Archer AX55's features, performance, and whether it's the right choice for your networking needs.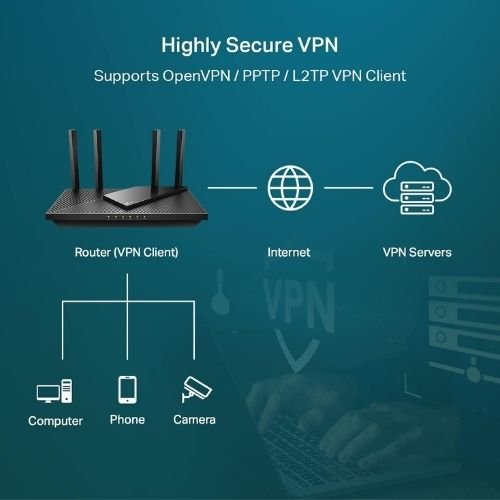 Key Features:
802.11ax WiFi 6 Technology: The Archer AX55 incorporates the latest WiFi 6 technology, which translates to faster speeds, enhanced capacity, and top-tier performance, making it perfect for homes with multiple devices.
Gigabit Connectivity: Equipped with Gigabit Ethernet ports, this router ensures lightning-fast wired connections for gaming consoles, smart TVs, and other bandwidth-hungry devices.
Dual Band Support: The Archer AX55 operates on both 2.4GHz and 5GHz bands, guaranteeing optimal performance for a variety of devices.
VPN Router: Protect your online privacy and security by using the Archer AX55 as a VPN router, encrypting your internet connection for a safer online experience.
OneMesh Compatible: It supports TP-Link's OneMesh technology, allowing easy integration with other compatible devices like range extenders, creating a unified and extended WiFi network.
Pros:
High-Speed Connectivity: The WiFi 6 technology delivers lightning-fast speeds, ensuring that lag and buffering are things of the past.
Impressive Range: With dual-band support and OneMesh compatibility, you'll have a reliable WiFi network throughout your space, even in hard-to-reach areas.
Enhanced Security: The Archer AX55's VPN router capabilities offer an additional layer of online security and privacy, crucial in today's digital landscape.
Easy Setup: Setting up the router is a breeze, thanks to its user-friendly interface and setup wizard.
Cons:
Price: While it boasts an array of advanced features, the Archer AX55 may come with a higher price tag compared to basic routers. However, the investment is justified for those seeking top-tier performance.
User Experience: I've been using the TP-Link Archer AX55 router for some time, and it has transformed the way I experience the internet. The WiFi 6 technology ensures that all my devices have access to high-speed, low-latency connectivity, even during peak usage times. The dual-band support allows me to connect a range of devices without compromising on performance. Setting up the router was a breeze, thanks to the user-friendly interface. The VPN router functionality gives me peace of mind, knowing my online activities are shielded from prying eyes.
Value for Money: While the Archer AX55 may come at a slightly higher price point, the value it provides is unmatched. The combination of WiFi 6 technology, OneMesh compatibility, and VPN router capabilities justifies the investment, especially if you have numerous devices and demand high-speed internet.
Ease of Use: Setting up and managing the Archer AX55 is remarkably easy, even for individuals with limited networking experience. TP-Link has ensured that the router is accessible to a broad audience.
Recommendation: If you're searching for a router that can meet the demands of the modern digital age, the TP-Link AX3000 WiFi 6 Router (Archer AX55) should be at the top of your list. It's a reliable and feature-rich router that offers high-speed connectivity, excellent range, and enhanced security. This router is ideal for both households with numerous devices and small offices seeking a high-performance networking solution.
Conclusion: In conclusion, the TP-Link Archer AX55 AX3000 WiFi 6 Router is a top-tier networking device that surpasses expectations. With its impressive WiFi 6 technology, versatile dual-band support, OneMesh compatibility, and VPN router functionality, it provides a versatile and future-proof solution. While it may come with a premium price, the Archer AX55's performance and features make it a worthwhile investment. I confidently rate it with a score of 5 out of 5 for its remarkable performance and value. It's a powerful gateway to the next generation of internet connectivity.