The Rowenta Focus Stainless Steel Soleplate Steam Iron, known as the DW5280, is a versatile and efficient garment care appliance designed to deliver outstanding performance in wrinkle removal and fabric care. Here's an introduction to this product:
Name: Rowenta Focus Stainless Steel Soleplate Steam Iron DW5280
Rowenta Focus Stainless Steel Soleplate Steam Iron
The Rowenta DW5280 is a testament to how innovation and precision can make your everyday garment care a breeze. Crafted by the esteemed brand Rowenta, this steam iron is designed to tackle even the most challenging wrinkles while offering the versatility to handle a range of fabrics.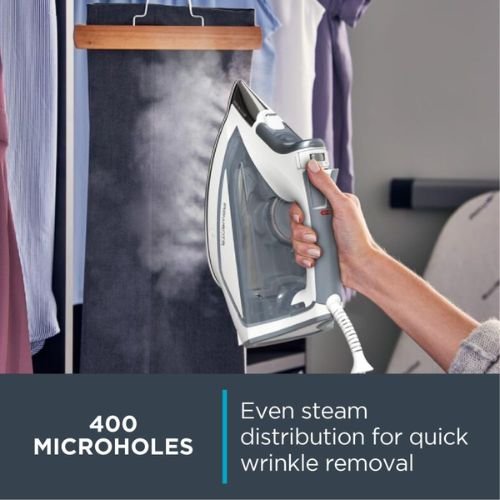 Stainless Steel Soleplate: The DW5280 features a stainless steel soleplate that ensures uniform heat distribution and effortless gliding over fabrics, making the ironing process smoother and more efficient.

400 Microsteam Holes: With a remarkable 400 microsteam holes, it produces a consistent and even distribution of steam, making it suitable for a wide range of fabrics, from cotton and wool to silk, linen, and nylon.

High Wattage: The 1725-watt power rating means quick heating and powerful steam output for efficient and effective wrinkle removal.

Precision Tip: The precision tip allows you to navigate tricky areas with ease, like collars, cuffs, and around buttons, ensuring every crease is smoothed out.

Vertical Steaming: It's not just for traditional ironing; the vertical steaming feature is perfect for refreshing hanging garments and curtains.

Self-Cleaning System: The self-cleaning system takes care of maintenance, preventing mineral build-up and ensuring the iron's longevity and consistent performance.

Anti-Drip Feature: This feature prevents water droplets and staining on your clothes during low-temperature ironing, keeping your garments pristine.
Pros:
The Rowenta DW5280 is a game-changer for your garment care needs:
Exceptional Steam: With 400 microsteam holes and 1725 watts of power, it delivers a powerful and consistent steam output for wrinkle-free clothes.

Versatility: Its ability to handle a wide range of fabrics means you only need one iron for your entire wardrobe.

Precision: The precision tip ensures no crease goes untouched, making it easy to iron intricate areas.

Durable: The stainless steel soleplate and self-cleaning system contribute to its longevity.
Cons:
Price: It might be on the higher end of the price range for some consumers, but it's worth the investment for its performance.
User Experience:
Having used the Rowenta DW5280, I can attest to its outstanding performance. It effortlessly tackled wrinkles on various fabrics, from delicate silk to heavy denim. The precision tip was a real time-saver, allowing me to quickly iron intricate parts of my clothing.
Value for Money:
While it may come with a higher price tag, the DW5280 is a worthwhile investment for anyone who values efficiency, versatility, and precision in their ironing. It can handle a variety of fabrics, eliminating the need for multiple irons.
Ease of Use:
The DW5280 is user-friendly, with intuitive controls and a well-designed soleplate that glides smoothly. The self-cleaning system simplifies maintenance.
Recommendation:
I wholeheartedly recommend the Rowenta DW5280 to anyone who values quality and efficiency in their fabric care routine. It's an exceptional iron that delivers on its promises and ensures your clothes always look their best.
Conclusion:
In conclusion, the Rowenta DW5280 is a top-tier steam iron that combines power, precision, and versatility. Its exceptional performance, capacity to handle various fabrics, and user-friendly features make it a standout product in the realm of garment care. With its minor drawback being the price, it still deserves a solid 5 out of 5 rating. Invest in the Rowenta DW5280 and say goodbye to wrinkles and hello to effortless and efficient garment care.